QAdental Forum 2022 (eng)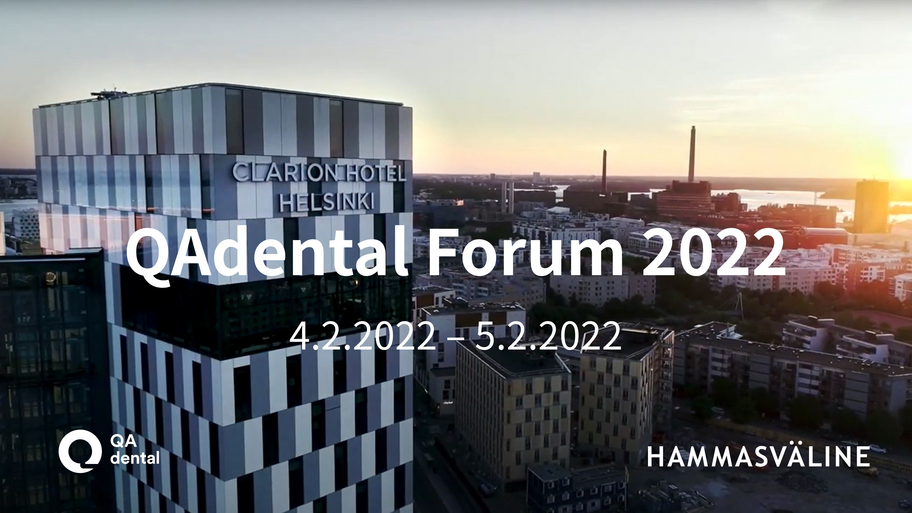 QAdental Forum 2022 (eng)
Watch QAdental and its exhibition partners' pre-event talks, published June 23, 2021.
The annual QAdental educational event, QAdental Forum, will be held in Helsinki in February 2022 (postponed from September 2021). The two-day event is aimed at dentists and dental students from 4th year onwards, who are eligible to work temporarily as dentists. In addition to the main event, a separate event on Crisis Management will be held at the same time for oral health care service directors.
The day program is free for QAdental members.
---
Venue
Clarion Hotel Helsinki, address Tyynenmerenkatu 2, 00220 Helsinki
---
Date
February 4th and 5th, 2022
Friday 4th: 8.30 am - 4.30 pm, evening gala starting at 8.00 pm (EEST)
Saturday 5th: 9.00 am - 7.15 pm (EEST), hands-on sessions after the lunch break
---
Program
Emergency dental care theme, Friday February 4th, language: Finnish (300 ppl, FULL)
For lecturer biography and course description click on the lecturer's name. Lecture day on emergency dental care by specialities:
The lecturers will also discuss the radiological diagnostics of these specialities as a dialogue with Dento-Maxillofacial radiologist, emeritus professor Jaakko Peltola.
Restorative Dentistry, Saturday February 5th, language English (300 ppl)
For lecturer biography and course description click on the lecturer's name.
Hands-on sessions will be held after the lunch break all at the same time.
---
Registration
The evening gala will be held on Friday 4th at Clarion Hotel Helsinki. The fee of the gala is 25 €/participant when registered before January 2nd, 2022 and after that 50 €/participant. The fee includes dinner.
Lecture registration links:
Friday / Emergency dental care: FULL
Hands-on session registration links:
Registrations for the day programs and evening gala must be cancelled no later than November 15, 2021, after which a cancellation fee of € 100 per day will be charged. Cancellation fee for evening gala is 50 €.
---
Accommodation
Guests can stay in modern rooms at Clarion Hotel Helsinki with event codes at a special price.
Standard rooms
"EVENTS" code 15% discounts at the time of the event. Reservations here.
Rates include tax, Clarion buffet breakfast, internet access, and entrance to Top Floor fitness center, saunas and swimming pool during opening hours. Rooms are available to guests on the day of arrival from 15:00 / 3:00pm, on the day of departure check-out by 12:00 / noon.
Cancellation Policy for Reservations made from the allocation: Each individual reservation can be cancelled free of charge latest 16.00 / 4.00pm local hotel time on the day of arrival.  
Special rooms 
Special rooms are reserved for a certain quota and will be available at a discounted price when booked by January 2nd, 2022.
When making a reservation from this allocation, kindly contact Inhouse Sales via email at reservations.cl.helsinki@choice.fi or via tel. +358 10 850 3820. Inhouse Sales Office is open Monday to Friday at 08.00 - 18.00 / 08.00am – 6.00pm.
Please mention the allocation name "QAdental" when making the reservation.
- Full Guest Name(s)
- Arrival Date
- Departure Date
- Valid Credit Card details (card number and expiry date) for guarantee
- Email Address
- Telephone Number
Each guest reserves and pays for own accommodation and the room account is to be settled directly at the hotel prior to departure. Reservations from this allocation are to be made latest January 2nd, 2022.
Submitted by Dr. Mikko Nyman, QAdental moderator, DDS. on 02/04/2022 - 07:30