QAdental Forum 2022 (eng) - Sept. 16 - 17, 2022 - free seats!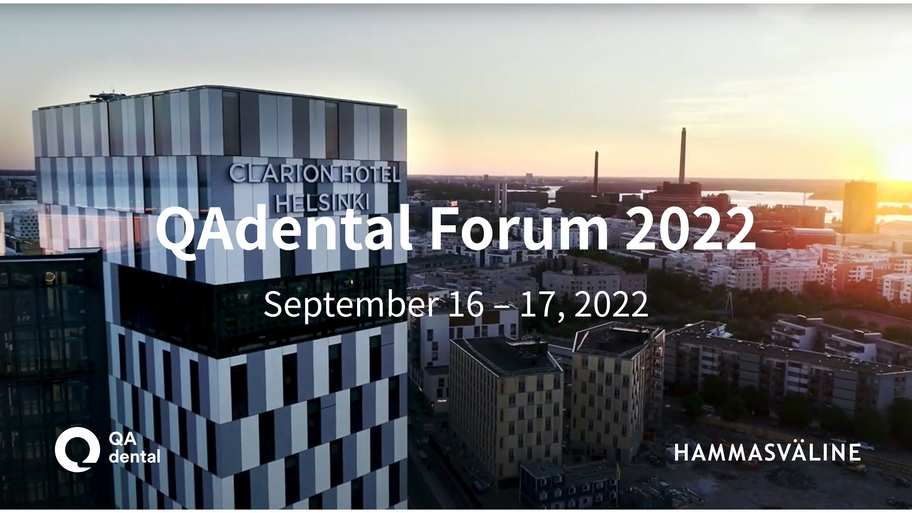 QAdental Forum 2022 (eng) - Sept. 16 - 17, 2022 - free seats!
Watch QAdental and its exhibition partners' pre-event talks, published in June 23rd, 2021.
The annual QAdental educational event, QAdental Forum, will be held in Helsinki in September 2022 (postponed from September 2021 and February 2022). The two-day event is aimed at dentists and dental students from 4th year onwards, who are eligible to work temporarily as dentists. In addition to the main event, a separate event on Crisis Management will be held at the same time for oral health care service directors.
The day program is free for QAdental members.
---
Venue
Clarion Hotel Helsinki, address Tyynenmerenkatu 2, 00220 Helsinki More info about arrival etc. in the day program.
---
Program, schedule and event info
Open day programs by clicking on the theme. You may also download and print the program.
Hands-on sessions (see for details in the Saturday's day program)
Shg Hanna Lähteenmäki, Antibakteerinen fotodynaaminen hoito (aPDT) - tehokas lisä mekaaniseen plakin poistoon (Lumoral)
Dr. Sylvia Rahm, Esthetic and Realiable Anterior Composite Restorations
Mikko Salminen (BDS), Cementation with 3M RelyX Universal resin cement
Dr. Andrew Osafo, SDF and Redefining Dentistry: The Medical Management of Caries
Dr. Anton Mustonen, One visit Dentistry – crown produced in 1 hour
Dr. Hanna Vallioniemi, Digital workflows in implant dentistry
---
Registrations / Cancellations
There are a limited number of cancellations in all themes/days and evening gala. There are also free seats for the Saturday's hands-on sessions, which are held after the lunch break before the afternoon lectures. The evening gala will be held on Friday 4th at Clarion Hotel Helsinki. The fee of the gala is 50 €/participant (after August 18th). The fee includes dinner.
Registrations to kariitta.korpela@qadental.com including the following info:
your title (dental student / dentist / specialist / chief dentist)
which themes / days you want to register to
which hands-on session you want to register to
do you register to the evening gala
allergies
contact information (tel and email)
Registration is binding after August 12th, 2022. Cancellation fee is 100€.
---
Accommodation
Guests can stay in modern rooms at Clarion Hotel Helsinki with event codes at a special price.
Standard rooms
"EVENTS" code 15% discounts at the time of the event. Reservations here.
Rates include tax, Clarion buffet breakfast, internet access, and entrance to Top Floor fitness center, saunas and swimming pool during opening hours. Rooms are available to guests on the day of arrival from 15:00 / 3:00pm, on the day of departure check-out by 12:00 / noon.
Cancellation Policy for Reservations made from the allocation: Each individual reservation can be cancelled free of charge latest 16.00 / 4.00pm local hotel time on the day of arrival.  
Special rooms 
Special rooms are reserved for a certain quota and will be available at a discounted price (bookings before September 1, 2022)
When making a reservation from this allocation, kindly contact Inhouse Sales via email at reservations.cl.helsinki@choice.fi or via tel. +358 10 850 3820. Inhouse Sales Office is open Monday to Friday at 08.00 - 18.00 / 08.00am – 6.00pm.
Please mention the allocation name "QAdental" when making the reservation.
- Full Guest Name(s)
- Arrival Date
- Departure Date
- Valid Credit Card details (card number and expiry date) for guarantee
- Email Address
- Telephone Number
Each guest reserves and pays for own accommodation and the room account is to be settled directly at the hotel prior to departure. 
Submitted by Dr. Mikko Nyman, QAdental moderator, DDS. on 09/16/2022 - 08:30