Webinar record (limited access): Traumatic dental injuries - emergency treatment and follow-up, Assoc. Prof. Nancy Bletsa, Dr. Ole Iden & Prof. Leo Tjäderhane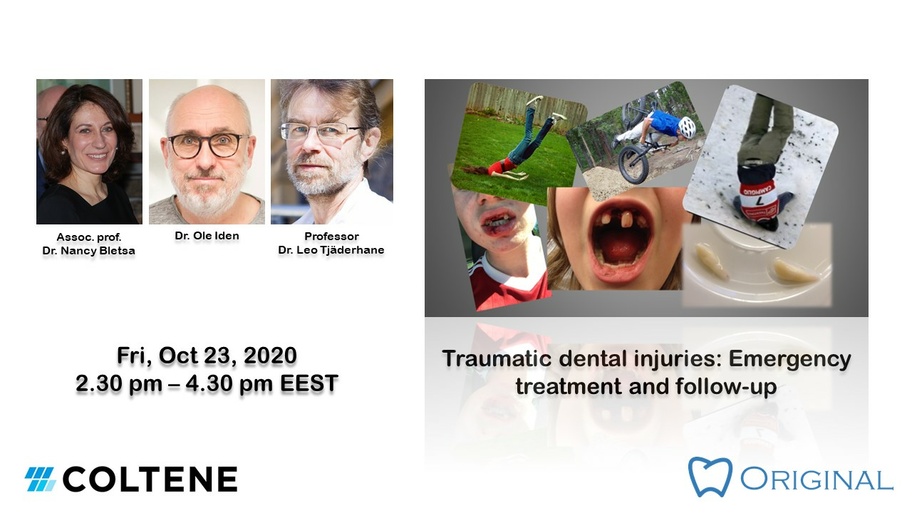 Webinar record (limited access): Traumatic dental injuries - emergency treatment and follow-up, Assoc. Prof. Nancy Bletsa, Dr. Ole Iden & Prof. Leo Tjäderhane
Public viewing ended January 23, 2021.
---
These two webinars and panel discussion were held on October 23rd, 2020.
While most traumatic dental injuries occur in children and adolescents, people of all ages can be affected. Emergency treatment of dental trauma is something that all dentists must be prepared to perform. The type and severity of the injury will determine the necessary treatment.  Selected trauma cases will be presented and challenges related to the interdisciplinary treatment will be discussed.
Lecturers:
Assoc. Prof. Nancy Bletsa (endodontology and pedodontology)

Dr. Ole Iden (endodontology)
Panel discussion was held between the lecturers and Prof. Leo Tjäderhane from the University of Helsinki.
Lecture lenght: 122 min / min. 2 CE credits

After passing a true/false exam you'll receive a certificate for earning CE points
---
Submitted by Dr. Mikko Nyman, QAdental moderator, DDS. on 10/23/2020 - 14:30